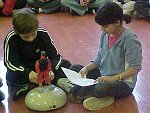 17th December 2002
Dear Valiant,
Maths Week at Barrow Hill has been a real success and the school is still buzzing with excitement. So many different activities took place from Rangoli to Origami...from mathematicians in history to Maths Trails around the local area. We had giant games such as dominoes and Connect 4, marble runs, giant Jenga, tessellating mosaics, mind boggling spatial awareness puzzles...and of course the dancing roamers! The whole school really rose to the challenge. Three roamer lessons were planned for the week, culminating in a whole school assembly to show our "dances".
In the first lesson, children worked in groups of threes and took turns in being the "roamer", instructor and the "recorder". In this way all movements could be physically acted out by the children. The range of music chosen was also very varied.. "We Will Rock You", "Billie Jean", "Tequila" and "Die Another Day" were just a few of the songs the roamers danced to.
Next, the children worked on repeated instructions, procedures and learnt how to change the units of measurement. The concentration and commitment was intense! In one class the children worked out that Ken weighed more than Barbie and was affecting the timing of the movement of the roamers. Poor Barbie had to be weighed down with extra plasticine!
The whole thing was huge fun and the children really enjoyed watching the roamer performances. It was hard to choose a winner. but 6C won with their version of "Die Another Day".
Thank you so much for your ideas and loan of the roamers...I really hope we can do something similar next year...but in the mean time have a lovely Christmas and New Year.
Best Wishes
Concetta Preller
Barrow Hill Junior School.