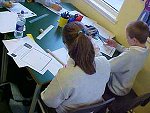 This site presents the work of P.6. children in Fox Covert RC Primary School, Edinburgh. Their project on the Iron Giant led to cross-curricular work with the Roamer Robot. The children created a Roamer Map detailing chapter 1 of the Iron Man by Ted Hughes, and then carried out tasks relating to the Mathematics 5-14 National Curriculum - Shape Position and Movement.
The project provided an opportunity to extend the children's skills in Art and design and was a highly motivating way to cover a core aspect of the Mathematics curriculum. Thanks is extended to Miss Barbara Service (head teacher), Miss Ingram (class teacher) and the children of Primary 6 for their enthusiasm for the Roamer Project.
Click here to visit the site.