Roamer Explorer
Roamers are descended from a race of Gypsy Robots. They love to travel and explore.
Create a landscape for the Roamer to explore.
Program the Roamer to travel through the landscape.
Roamer explorers always keep a diary of their adventures and draw a map of the land they have explored. Record the journey in a diary. Keep measurements of the distances between each place and draw a map of the area.
You may wish to place a compass on the Roamer to help draw your map.
If your Roamer has a pen holder you could write the movements in a procedure change the scale of movement and get the Roamer to draw its path on a piece of paper. This will help draw the map.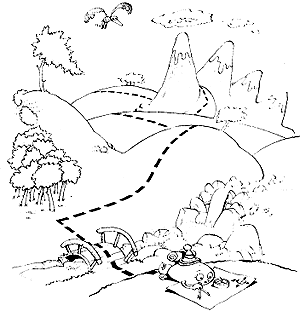 This activity may be freely copied for use in schools.