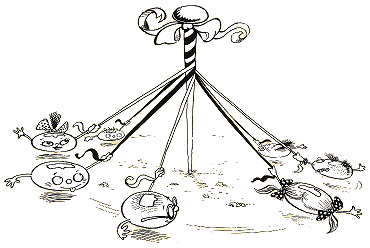 IT'S CARNIVAL TIME

Summertime is the time for carnivals and fiestas. The Notting Hill Carnival, on August Bank Holiday, is probably the biggest and best known of its kind in the U.K. This theme provides plenty of opportunities for the creative use of Roamer.
Festivals is a popular topic in Primary' schools throughout the year, but the British ones tend to be held in summer for obvious climatic reasons! An excellent design activity is to dress up Roamer as a carnival float or character. Picture research of the many international carnivals and fiestas such as the Mardi Gras in New Orleans can help inspire the development of the designs. The designs can be as flamboyant or as simple as the child likes. At carnival time anything goes!
Many towns and villages around Britain have their own summer festivities. Pupils can make a large scale plan of their town and then program Roamer to follow a suitable carnival route. The things that they will have to think about when planning the route are:
Are the streets wide enough to take crowds of spectators?
Does it go through as many areas of the town as possible?
How long will it take for the procession to follow this route?
Does it have a suitable place to begin and end?
The children could also produce decorations for the streets, creating a design environment for the Roamer carnival.
Dancing and music add to the holiday atmosphere. Programming Roamer to dance can be as simple or as sophisticated as the ability of the children dictates. With multiple Roamers older children could create a Maypole on the Village Green scene and then program Roamers to dance round the Maypole. Difficult enough for adults to do! If you only have one or two Roamers the children could join in with them, following and copying their movements. The results could be quite extraordinary! Or perhaps a troupe of Morris men with their fool could perform. Another Roamer could be dressed as the musician creating the music.
As the basis for a summertime project, Carnivals provide plenty of activities for Roamer that can span the curriculum range and a great source of inspiration for design projects as well as getting us all in the mood for the summer holidays! Have a great holiday.