ROAMER DESIGN COMPETITION
Key Stage 2

The Roamer Design Competition culminated in displays set up by children from around Britain at the Science Museum, London. In the last issue of GO we looked at the Key Stage 1 finalists. This edition concentrates on the Key Stage 2 finalists.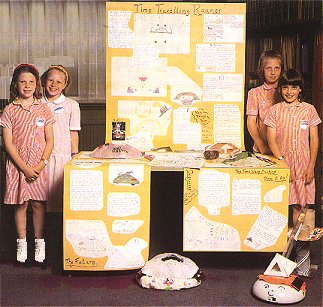 The theme of an ingenious display by Chesterton CP School, Cirencester was time travel. The pupils Jenny Evans, Helen Wokerstein, Katie Styles and Isobel Marsh spent a week at their local education centre planning, developing and creating their design. A brainstorming session led to the idea of time travel which they then developed in a cross-curricular way. The Roamer had a dual role within this theme, both as the vehicle for time travel and as a time traveller. As the time warp machine Roamer had a pyramid built on top which people entered through a chute.
As a time traveller Roamer had four disguises to enable him to appear at home in different historical situations.
This was a particularly creative idea that the pupils developed in a very interesting and entertaining way.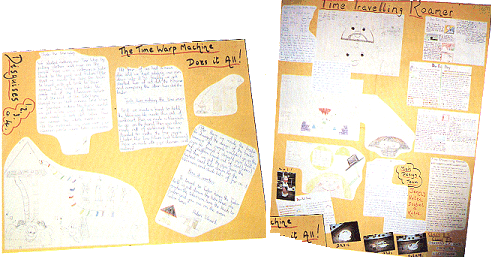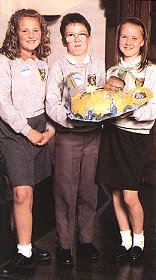 Cherie Bowden, Emma Findlay and Ross McCallum of Quarryhill Primary School, Aberdeen came up with an equally fantastical idea - a floating island. The shape of the Roamer was what inspired them initially and after preliminary sketching the Cosmic Island was born. The children sculptured the features of the island out of card and paper and included a treasure chest and a couple of palm trees between which was strung a washing line. The island was completed with great care and attention to detail.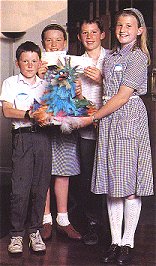 KIRKBY ON BAIN
CE AIDED SCHOOL

The first prize at Key Stage 2 was awarded to Katie Twells, Adam Holland, Elouise Carter and Tim Randman of Kirkby On Bain School. The pupils developed a pom-pom headed long tailed Roamergale bird as part of their project on migration. Here, Pete Douglas their head teacher documents the project.
Our whole school theme on Movement had moved into the area of Migration in the Key Stage 2 (Y4 Y5 Y6) class, incorporating many cross-curricular areas. Migration routes had been drawn, scales had been calculated and research had been undertaken as the children looked at the migrating habits of the different species. Much emphasis was placed on looking at birds in the local area. What the children found most interesting were the long distances travelled by the birds. How did they find their way and why do some birds visit more than one country?
As the routes were drawn on a world map the children found they could simulate the journeys of the different birds by using Roamer. To utilise Roamer, the routes were shown on a large sheet showing the countries, the direction and scale as each bird's route was undertaken. All information gathered by each group was collected and standardised under headings to create data sheets which soon built into a database using "Our Facts". By interrogating the information, each group could extract and compare their information with birds from different groups whilst being encouraged to ask questions and discuss and hypothesise, based on their existing knowledge.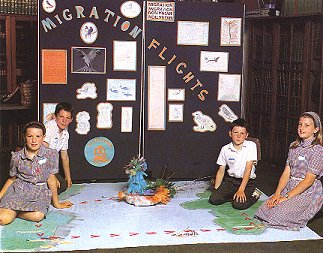 Research led to the children finding interesting information from various species of bird and the decision to give Roamer some identity, based on these findings. A combination of features from different birds was used to turn Roamer into the character and design of the pom- pom headed Roamergale bird with its various features and habits.
A small group of children planned the features into the design and identified the materials required which they duly collected from various sources at home and school. Feathers were used on a framework of wire mesh and several features of real birds were discussed within the design. For instance, the long neck of the Roamergale bird was counterbalanced by the long tail feathers when it moved, whilst the wings folded back to reveal the Roamer controls for ease of programming. The design sheet soon became a working diagram as ideas were discussed and evaluation of the design took place at each stage. Several ideas and materials were modified as further suggestions were incorporated to improve the appearance and realistic features of the bird. The bird soon began to gain identity and indeed, a character, of its own as it moved along with a wobbling/pecking movement.
Discussion led to the route being planned and the group spent time discussing and using trial and error to program Roamer to move precisely from one country to another. Work on angles and direction was reinforced and bearings were introduced to the children in Y6. This proved to be an excellent vehicle for development and understanding of bearings and work moved off at a tangent as simple orienteering exercises were developed (National Curriculum Maths and PE!), requiring angle estimation and more precise programming. This developed into the Y6 children planning an orienteering route through a local forest and walk area, for other groups to follow. Much excitement was generated as teams worked together to see who returned the quickest. Roamer proved to be invaluable in evaluating the route and bearings taken in the classroom to see where some groups went astray.
Meanwhile Roamer was programmed to "migrate" from one country to another over specified distances, feeding on various seasonal and cultural foods in each place.
Roamer's time facility was incorporated as the bird stopped in each country for a specified period of time with each month corresponding to one second.
Programming skills increased as the children's estimations of angles became more accurate through practical testing by Roamer and the accuracy of the migratory journey was evaluated and modified. The final program was soon incorporated into a procedure within Roamer's memory. For additional effect, using Roamer's music facility, a mating call was added within a separate procedure for when the bird returned to this country after completing its journey, full of the joys of Spring!
Meanwhile the database produced some interesting results which were displayed in graphical form alongside observational drawings, water colour paintings and research on data cards, as information now gathered momentum from several sources.
Children aged from 8 to 11 years had worked at their levels of ability and had seen their work contributing to a whole, that was both relevant and matched to their skills. A wide variety of cross curricula work had been undertaken, the children and, dare I say it, teachers had learned a great deal! Most important, younger children could openly see work of patience and quality from some of the older children which gave them visual goals towards which they could aim with increased motivation.
Finally, their work and display culminated in an exciting and memorable day at the Science Museum.

ST LAURENCE
JUNIOR SCHOOL,
BIRMINGHAM

Adam Kirby of St Laurence Junior School sent in an individual entry of an "Olympic Octopus" which gained second place. Adam had obviously put a lot of time and effort into his project which resulted in a stunning display which documented the design process in detail. Here Adam explains that process.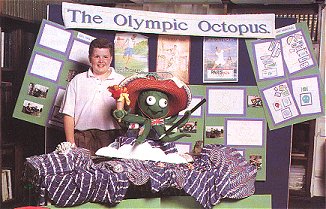 Year 6 were told about the Roamer competition by our schools computer organiser Mr Askins. I went home that night and wrote out a list of as many things that could be built to put on top of the Roamer jacket. The next morning I took my ideas back to Mr Askins. Straight away he said, "They are good ideas aren't they?" so I said, "I suppose so."
I had though of something like the Olympics for the year and an Octopus to display it.
So I drew various pictures of the Octopus holding a javelin, the 01ympic Rings and the Olympic Torch, and wearing a Spanish hat. I though a bit harder about changing the plain Roamer jacket into something a bit more exciting like a world, or even half a globe in fact.
I worked out how to make the Octopus and then had to add the extra things to it. To start with I added the Olympic Rings to show that the Octopus is showing that he is part of the Olympics. The same with the Olympic torch and javelin.
These few bits and pieces were very simple to make: the javelin consisted one large knitting needle, a piece of copper pipe and some felt. The Olympic Rings were also simple to make and consisted five pieces of wire and a roll of ribbon. The Olympic torch was constructed from red, orange and yellow material glued into a wall cone. After this was done there was still one finishing touch - a Spanish hat to show that the Olympics this year were coming from Barcelona.
When I heard that with my Roamer design I had to make a display I went straight to work.
I thought of making the background and surface like a beach, being as the Octopus lives in the sea, such as putting clouds in the sky and sand and shells on the beach which would make it look a bit more attractive and eye catching. Here is my final design.