REVEREND ROAMER

Bill Irving, a teacher in Cirencester, is also a Church of England "Reader" - a lay person licenced to take services. He has used Roamer to help him in his preaching. Here he recalls one such alliance.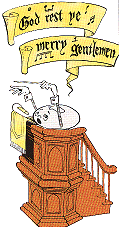 Last Christmas morning I was taking "Family Service" while our Vicar - Rev. H. Morris - was taking Communion at our sister Church.
"Rev. Roamer" trundled in, checked the congregation and choir and with the help of a junior choirister "sang" a Christmas carol as listed in GO magazine (issue 8).
The congregation in our pretty, ancient, country church sat in breathless silence as Rev. Roamer sang his song twice. While your invention provided the technology I pottered over to the pulpit to deliver the theology.
After the service it was the robot everybody wanted to talk about and most thought it was the Vicar's Christmas present - no such luck!
So when the Church of England finally has robot vicars as well as female ones, some saw it first at St. Peter's, Siddington, Cirencester!