INTRODUCING THE VALIANT CONTROL CONSOLE

The Control Console is a new product from Valiant Technology. It is a computer free control unit which can be programmed to control models at a fraction of the cost of the conventional system of computer, control software and control interface box.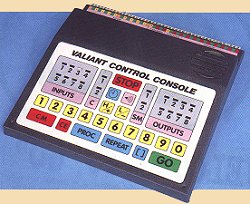 The Control Console is compatible with all popular construction kits including Lego, Meccano, Fischertechnik, Teko, Lasy, Plawco and the contents of the junk box.
The Console has 8 outputs for controlling lights, motors, relays, etc. and 8 inputs, which operate with a variety of sensors. It has also two stepper motor drives, a programmable sound facility and in-built speaker. Two counter units provide an encoder capable of operating an output for a set number of interrupts.
The membrane keypad has colour-coded, one function-keys and LEDs indicate the status of each output, input, counter and stepper motor drive. Outputs, inputs and counters use simple screw terminal block connectors on the back of the Console. They don't require special connectors and are colour-coded to help connection.
Each Console comes comptete with a mains-driven power unit. Batteries can also be used. This enables the Console to drive a mobile robot design.
The Console's programming language has been designed for children. It has a Logo structure and is based on the Roamer Control Language. Consequently children find it easy to graduate from using Roamer to using the Control Console.
The Console has been built for a long life. It is robust and portable. The Console Computer Interface allows programs to be loaded into a microcomputer, viewed, stored on disk and reloaded into the Console.
Control Console
Technical Specification
1k user memory
Outputs source or sink a maximum of 300mA continuous current at 6 Volts.
Inputs required to sink 2mA to cause a High to Low signal.
Input power lines provide a nominal +12 Volts with a 100 ohm source resistance.
The stepper motors are driven in the full step mode by 200mA per winding at 12 Volts.
The counter outputs source a maximum 500mA continuous current at 6 Volts.
The total continuous current output is 3 Amperes
Protection
All outputs (except input power lines) are protected by resetable multifuses.
The counter emitter and detector lines, inputs and input power lines are protected by series resistors.
The power supply is protected by a resetable multifuse
Please see the relevant product pages for ordering information and the latest price.