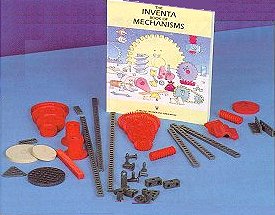 INTRODUCING INVENTA
THE DESIGN & MAKE SYSTEM FROM VALIANT

Dave Catlin, managing director of Valiant and designer of Inventa answers questions about this latest product from Valiant.
What made you think that there was a need for a design and make system when there are component parts already available?
We like to listen to teachers to find out what they feel they need and it became very obvious over a period of time with lots of teachers complaining of the difficulty they found in implementing the design and make part of the technology curriculum. In addition OFSTED reports pinpointed specific needs, such as the lack of suitable resources and the need for training for non-specialist teachers. Research showed that there was no complete system and the component parts available didn't integrate together, so success depended less upon the child's ability than the quality of the materials.
So what does Inventa consist of?
Inventa is a complete system. It consists of mechanisms, structural components, raw materials, textbooks, teacher's notes, activity sheets, design sheets, a training video and tools designed specifically to support the system. All of extremely high quality.
What makes Inventa different?
Our research highlighted five areas of concern for teachers and so in the development of the system we have addressed these problems:
"The fact that the introduction of design and technology has proved intensely difficult should not, however, lead to a misjudgment about the value and need for education in this subject."
Sir Ron Dearing
Practical materials - The system is based on the familiar woodstrip system and is designed to integrate with existing practice and resources. This means that all the component parts fit together and actually work, reducing the frustration often associated with design and make and increasing motivation.
Curriculum links - The support material helps show how design and make can be incorporated into topic work and normal classroom activities. The documentation provides an accessible route into technology within a range of contexts and subject areas.
Professional development - The documentation and video focus on the development of teacher's technological skills and knowledge as well as providing information on all aspects of technology from writing a school policy through to classroom organisation.
Classroom support - The activity cards are fully illustrated with solutions without being prescriptive. Design sheets guide pupils through the design and make process and the video shows how to progress safely. Most importantly, the text books make technology accessible and understandable.
Cost - This was obviously a very important factor for the teachers. We have worked hard to keep the cost at a level where the materials can be considered consumable thus allowing the work to be displayed, or taken home.
By solving the problems for teachers we have designed a system that is totally integrated yet fully flexible. Although it's based on the woodstrip system the addition of structural elements give real design choice by opening it up to using a wide range of everyday materials in an effective technical manner.
Do schools need to buy all the parts?
Initially schools should buy the School Starter Pack. This contains all the basic mechanisms and structural elements as well as the full range of support materials. It is extremely good value (costing £30 less than buying the parts separately) and allows schools the chance to use all the different parts and assess their needs. From then on they can buy the component parts. It may be that they would like to buy a class set of text books, this is possible, it may be that they need a regular supply of raw materials and mechanisms, this is possible. Basically once they have used the School Starter Pack to find out all the possibilities, it is then up to them to work out what they need.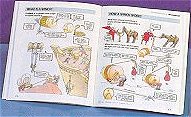 The documentation is presented in a very lively and humorous format. Who is it intended for?
It has been written to provide an easily accessible route into mechanisms. If it can communicate ideas to you, whatever your age, then it is for you. Our trials showed that both teachers and children loved it.
Do you intend to produce any more parts to the system?
Yes. There is a significant amount of documentation already under development. This includes Topic Books, such as one on Food and Agriculture, which help integrate technology into other areas of the curriculum.
We are also hoping to develop other packs such as an electrical package containing components and documentation of the same high standard.
This seems a radically different product for Valiant to produce. Why have you?
It's not really that different. We are essentially a technology company and both Roamer and the Control Console are used in the design area for model making. These components are totally compatible with Roamer and Control Console. By introducing Inventa we can now help deliver the design and make aspect of technology and cover the whole of the technology curriculum.