RUDOLPH THE RED NOSED ROAMER

It's almost Christmas and Roamer is really looking forward to the celebrations. As a creative medium, Roamer is totally versatile, the only limitations being the imagination of the user. No matter what topic is being covered over the Christmas period, Roamer will fit in somewhere. The following are some suggestions of ways that Roamer can contribute to the seasonal festivities..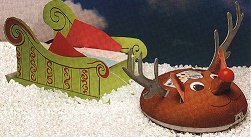 • Children enjoy sending each other Christmas cards, they also like to receive them, particularly if they are delivered to them. A "post box" could be positioned in the main hall as a central point for posting. The children could then sort the cards into classes ready for delivery and Roamer could provide the delivery service. The children may wish to turn Roamer into a suitable character, perhaps Rudolph pulling a sleigh. By programming Roamer to circulate the school, delivering the cards to each classroom the children are exploring sequencing, estimation and measurement and ergonomics. The Roamer could announce his arrival at each class by playing an appropriate Christmas tune.
• The Christmas Tree has dominated Christmas decorations since Victorian times. With the help of Roamer, you can design a Christmas Tree for the classroom which doesn't drop needles on the carpet. A simple cone shape fixed on a jacket can provide the basis for the design and the introduction of LEDs can provide illumination. They can be programmed to flash on and off or remain lit all the time.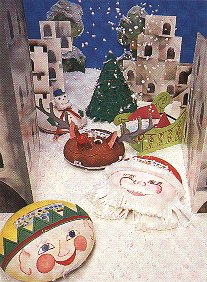 • It is possible to make Roamer into a whole host of different Christmas characters. The starting point for the Design Process could be reading a seasonal story eg. "The Snowman" or "Father Christmas" by Raymond Briggs. The children could discuss what qualities they would like their characterto have and develop a context or environment for it. The extra creative dimension that movement contributes means that pupils can program the Roamer character in the appropriate manner. This could then lead on to creative writing; writing a Christmas story for their own character.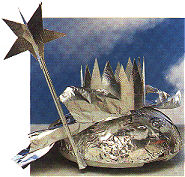 A pantomime "Snow Queen".
• Pantomimes are always a favourite at Christmas time. By writing their own pantomime and developing the characters for it, the pupils can program Roamer to act out the play whilst they speak the lines. The design of the set and costumes involves much creative design work. Perhaps the pantomime could be shown to other classes at an end of term assembly, or videoed for later viewing.