MILLENNIUM PRODUCT
ROAMER AND INVENTA

Highly prestigious marque awarded by the Design Council.
"I am delighted that Roamer and Inventa have been announced as Millennium Products and are going to form part of our collection of the most innovative products and services created in Britain for the new millennium."
Andrew Summers, Design Council Chief Executive.
DESIGN COUNCIL
TURTLE

Awarded to products showing excellent design.
Turtle was selected by the Design Council to feature in their book "Best of British".
BETT AWARD
ROAMER

Voted by teachers as the best piece of IT equipment in the Primary classroom.
"I am so pleased that Roamer won. It deserved it."
Fellow BETT Exhibitor 1999.
HORNERS AWARD 2000
INVENTA

Awarded by the Worshipful Company of Horners for the most innovative use of plastic.
"Inventa exemplifies in so many ways the excellence of plastic as a design medium. Not only are children able to understand the functioning of simple and established engineering mechanisms, through Inventa they can develop real skills in applying this knowledge in exploratory, problem-solving situations..."
DATA RECOMMENDED
INVENTA AND TRONIX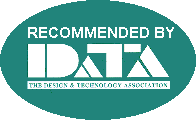 Products selected by DATA that fulfilled the following criteria:
Fitness for purpose
Effectiveness in enhancing teaching and learning
Access and ease of use
Quality
Value for money