"At last! An electronic teaching system that is designed to integrate into all types of project work, be it a simple electric circuit forming part of a model house or a more complex electronic circuit. Tronix is so easy, it has to be experienced to be believed. A great strength is that a completed circuit automatically 'draws' its own circuit diagram as it is assembled. Many hours of frustration would have been avoided if we'd had a system like this before."
Stewart Dunn, Middle School Teacher and CDT textbook author.
TRONIX COMBINES SCIENCE AND TECHNOLOGY


It allows pupils to explore the science of electricity and then apply that understanding in technology projects.
TRONIX ELECTRICITY STARTER PACK


An economical way to start electricity in your classroom.
Contains: 1 baseboard, 2 lampholders and lamps, 1 6V battery holder, 1 slide switch, 1 motor, 1 motor mounting bracket, 1 buzzer, 5m wire, Teacher's Notes.
Code 1543-100C £17.50
TRONIX ELECTRICITY CLASS PACK


This package provides enough materials for class science and technology projects, suitable for 7 to 13 year olds. The workcards provide a comprehensive Programme of Study with science investigations and design and make assignments. The Teacher's Notes explain the principles of electricity and give hints on the design and make tasks.
Contains: 5 base boards, 5 6V battery holders, 1 3V battery holder, 2 push buttons, 5 slide switches, 1 micro switch, 1 reed switch, 2 potentiometers, 5 lamp holders, 10 lamps, 3 motors, 3 motor mounting brackets, 2 buzzers, 10m wire, 20 photocopiable workcards, Teacher's Notes, Curriculum guidance sheet.
Includes the Programme of Study - Electricity.
Code 1543-101C £79.95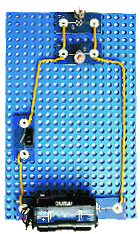 Patent Ref: GB9511790.9
Tronix is a trademark used by Valiant Technology Ltd.