Helicopter Food Aid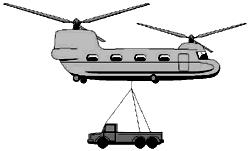 Pupil's Sheet
You are a helicopter pilot landing in the desert to deliver food aid. The landing will be difficult.
You must land on the H and indicate you are landing by flashing both of your lights. You must then manoeuvre round the sand dunes to the unloading area.
You must flash the appropriate indicator when turning and turn your rotor off when you stop.
The Roamer instruction sheet will give you basic programming instructions.
The following instructions will be needed for the rotor and lights.
| | |
| --- | --- |
| T42 | Turns the rotor on |
| T41 | Turns the rotor off |
| T22 | Turns the right indicator on |
| T21 | Turns the right indicator off |
| T32 | Turns the left indicator on |
| T31 | Turns the left indicator off |