Homes
Individual Work
How might a Roamer be used as
as a household "help"
as a character or mechanism on a building site
Develop some designs for Roamer to become:
a family pet
a baby entertainer
a burglar
a gardener/gardening mechanism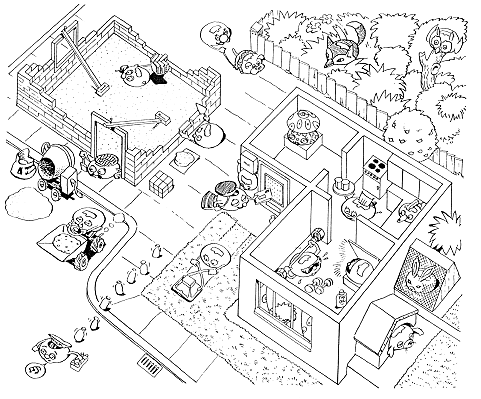 Group Work
ROAMER AS A HOUSEHOLD HELP
Turn Roamer into a household appliance eg.
a cleaner
a grasscutter
a doorbell/chime
a security system
Design and make a robot to help in the home eg.
a room tidier- a "children's friend"
a waiter/hostess for delivering meals
a mail delivery robot
Use Roamer as the basis for a design for a home in the year 3000 eg.
a transporter round the house
a weather forecaster
an exotic omament
A HOME FOR ROAMER
Design and build a home for Roamer eg.
one room/two rooms
two levels
a home with and "at home" signal (eg. a flag is raised when Roamer is in residence)
Develop a gym for Roamer eg.
a weights for pulling mechanism
a running machine
a sunbed
Design and make a Roamer mat eg.
a map of "Roamerworld"
a plan of Roamer's house
a plan of the school
SHELTERS FOR CREATURES
Design a home for Roamer as a family pet eg.
a dog in a kennel
an exotic bird in a cage
a rabbit in a hutch
Create a fantastical creature from Roamer and design an environment for it eg.
a dragon
a cyclops
a dinosaur
Design and make a creature of the forest or woodland and create a home for it eg.
a bat
a caterpillar
a fox
an owl
A BUILDING SITE
Turn Roamer into a machine found on a building site eg.
a winch/hoist

a cement mixer

a dumper truck

an earth mover
Change Roamer into a character on a building site eg.
an architect
a hod carrier/brick layer
a guard dog
a foreman/woman