Journeys
Individual Work
Make a list of all the people that regularly make a "journey" round the area that you live. Draw a Roamer design for each.
Think of all the journeys that you make. They can be ones that you do every day (eg. to school) or ones that you do less frequently (eg. going on holiday)
Develop some designs for Roamer to become a police Roamer:
a police car
a policeman/woman
a member of the anti-terrorist squad
a police helicopter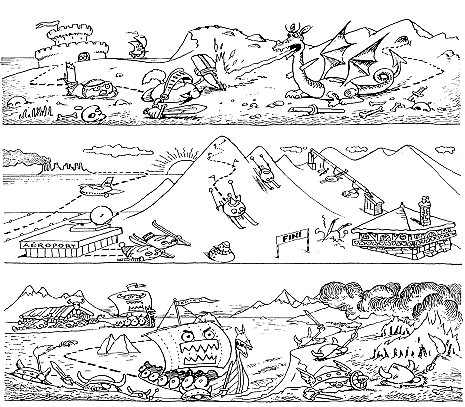 Group Work
JOURNEYS FOR A PURPOSE
Design a Roamer who serves the community eg.
a street cleaner/rubbish collector
a milk delivery Roamer
a post man/woman
a newspaper girl/boy
Create a Roamer for the emergency services eg.
a fire engine
an ambulance
a police car
JOURNEYS THROUGH BOOKS
Create a character from a book you have read eg.
Postman Pat
Stig of the dump
Badjelly the Witch
a character or mechanism from "Charlie and the Chocolate Factory"
Write your own story and turn Roamer into a character from it. Perform the story for your friends.
Turn Roamer into a character from a myth or legend eg.
King Arthur
St George and the dragon
Theseus and the Minotaur
JOURNEYS FOR FUN/RECREATION
Prepare Roamer for a holiday abroad eg.
skiing
adventure
sunbathing
sightseeing
Design a Roamer equipped for outdoor pursuits eg.
fell walking
pot holing
cycling
bird watching
Turn Roamer into a character or mechanism from an amusement park eg.
a ghost train
a cable car
a strong man
a juggler/clown
JOURNEYS IN HISTORY
Turn Roamer into a character from a famous historical journey eg.
Viking
Roman soldier
Crusader
Change Roamer into a historical character famous for his/her journey eg.
Christopher Columbus
Gladys Aylward
Hannibal
Edmund Hillary
Ffyona Campbell
Create a Roamer character from a famous mythological or legendary journey eg.
Jason and the Argonauts
Icarus
a knight of the Round Table
Sinbad