Materials that may be used: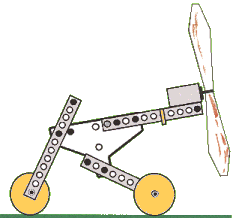 Forks and Frame: Inventa Link Strips
90 x 40 x 9mm custom wood for centre frame
Rods & Handle bars: 5 mm plastic and steel rods
Wheels: 40 mm Plastic coloured wheels
Axles: 4 mm Steel Rods
Others: Electric Motor, Switch, Hook-up Wire and a Propeller.
5 mm steel rod for battery holder.
Craft stick and paper binders with washers.