Creating a TV Star

When the BBC were planning their schools programme "Numbers Plus", they decided to use Roamer as one of the main characters. This meant that they had to design a persona for the Roamer character, Trundle.

How do they solve this problem? As professional designers they followed the design process – this is a process you can follow to solve any problem whether it is preparing party or building a space ship!

Step 1: Design Brief

This is about clarifying the problem you want to solve. It often involves research just to be able to say this is what we have to do.

In this case the production team briefed Senior Graphic Designer Iain Macdonald to create a contemporary, slightly anarchic, streetwise persona for Roamer.

Win a £100 Product Voucher

Submit a Roamer design and if we publish it on this web site we will give you a ₤100 product voucher. You must include your design sketches and talk about your decisions.

Step 2: The Design

The next step is to work out one or more solutions to the problem. Iain came up with several great designs in his drawings.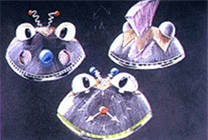 Step 3: Design Review

You should the take a step back and think whether your solution is really the best way of solving the problem – does it "satisfy the brief".

The production team reviewed Iain's designs and decided to combine elements from different designs.

Step 4: Making It

Next you action your solution. If it's a party, everyone turns up, enjoys themselves and tell what a great job you did. If is a space ship some makes a great journey. Roamer alias Trundle became a star.