Starting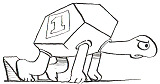 Before starting the Turtle for the frst time charge the batteries as described in charging the batteries.
THE COMPUTER SYSTEM SHOULD BE SWITCHED OFF.
I . Connect the Communicator to the computer. The method of connection will depend on the make of machine. Consult the machine specifc instructions in the Interface Kit.
2. Connect the power adaptor to the mains power supply and turn on power.
DO NOT CONNECT THE POWER ADAPTOR TO THE COMMUNICATOR YET.
3. Put your pen in the Turtle, removing the cap.
4. Switch on your computer system.
5. Load the LOGO software.
If the LOGO software requires an interface disk, load as described in the software documentation.
Check that the small coloured switches underneath the Turtle and on the side of the Communicator are in the appropriate positions for use with your software as described in the machine specifc instructions in the Interface Kit.
6. Connect the jack plug from the power adaptor to the socket at the rear of the Communicator. A red light behind the Communicator screen will go on. If not, check the power is on and re connect the Communicator. If after several attempts the light still does not go on, consult your dealer.
7. On the left rear flipper of the turtle is a three way switch, labelled ON, OFF and CHARGE. Move the switch to the ON position. The turtle's eyes will glow and a small red light on the pentagonal control board inside the turtle will illuminate.
Before giving any command to the Turtle, instruct it to raise the pen (usually PENUP). This synchronises the Turtle with the software.
The Turtle is ready to go.
If the eyes do not glow the Turtle needs recharging.
8. Running the Turtle. The software documentation will show how to instruct the Turtle.