Reliability
Roamer's design incorporates Valiant's twenty-five years experience of making robots to meet the demands of the classroom. It is not a toy: it is a robust product expected to be used on a daily basis.
Easy Set Up
Roamer is a modular robot designed so that you can rapidly change its nature to suit your specific needs. This whole process has been made simple so you can complete changes in a couple of minutes, yet "childproof" so younger children cannot damage the robot or themselves.
Free Training and Support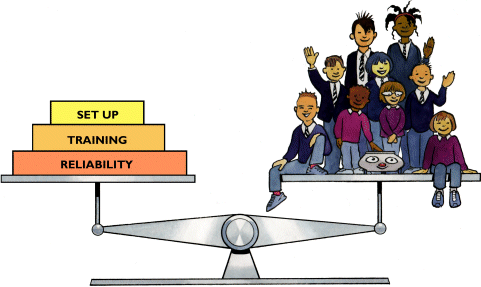 Free On-Line Training
We are preparing a set of videos that you can access. This shows you how to use the system in simple, easy stages.
Webinars
Webinars are 'seminars' that take place over the Internet.
You can call our office and arrange a convenient time for your seminar. Or perhaps you need help immediately. If our trainer is available they can set up a Webinar within a couple of minutes.
When you log on to the Webinar you then see our trainer's computer screen and we telephone you. We can run RoamerWorld software on our computer and answer any questions you have. We can even give you control of our computer so you use the software while we guide you. Using web cams we can show you how to set up or program Roamer
This gives you personalised training without needing to leave your computer.
Helpline
You can just get on the telephone. Call 020 8673 2233 and ask for the help desk.
Website
This site is embryonic. However, it is the tool we plan to use to help you implement the use of educational robotics across the curriculum. Keep a check on: